Carers Week
Carers Week is an annual campaign to raise awareness of caring, highlight the challenges unpaid carers face and recognise the contribution they make to families and communities throughout the UK. It also helps people who don't think of themselves as having caring responsibilities to identify as carers and access much-needed support.
The campaign is brought to life by thousands of individuals and organisations who come together to provide support for carers, run activities, highlight the vital role carers play in our communities and draw attention to just how important caring is.
If you are a Carer please let us know so that we can support you while you support your famliy member or friend.
For more information please visit Home | Carers Week
Extended Opening Hours
From the 1st of October 2022, the Chippenham, Corsham and Box Primary Care Network (CCB PCN) will be offering extended opening hours to any patient registered at our 5 GP surgeries. All patients with a mobile number recorded will be sent a text message with a link to a short questionnaire to complete. This will allow us to find out what would be your preferred opening times. For example, early mornings, evenings, or Saturdays in order to suit the needs of our patients.
We ask that you complete this questionnaire if possible, however if you are unable to use the link provided in the text or in the link below, there are paper copies available at Reception. We appreciate your support with this.
Link to survey: https://forms.office.com/r/J8USNkvhZU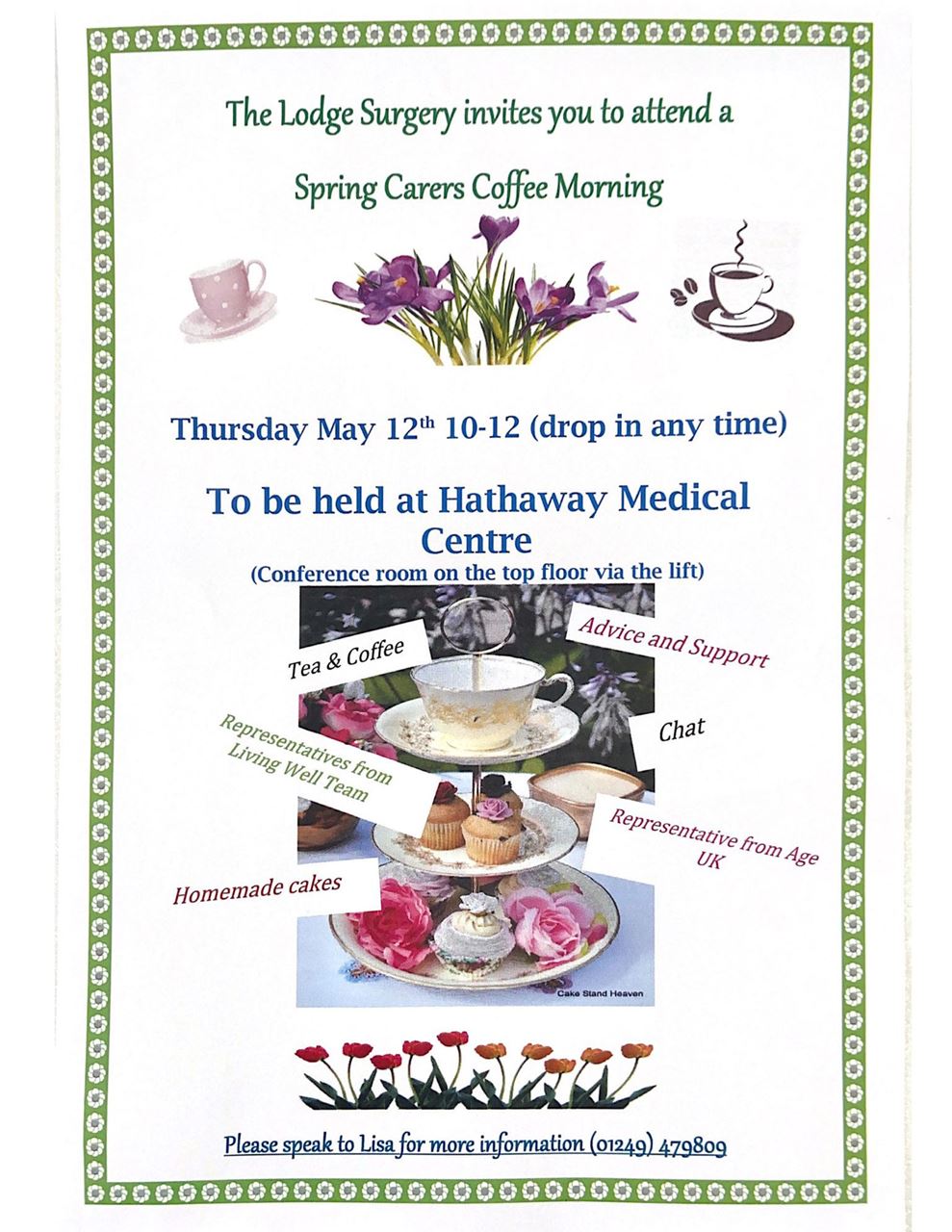 Coffee Morning for Carers
Carers are invited to a Spring Coffee Morning being held at Hathaway Medical Centre on Thursday 12 May. Drop in any time between 10 and 12 noon for a cuppa, some homemade cake and a chat. There will be representatives from the Living Well Team as well as a representative from Age UK offering advice and support.
We would love to see you there so please do join us. The event is being held on the top floor which is accessible via the lift.
If you have any questions or would like more information please call us on 01249-479809 and speak to Lisa.
GP Patient Survey 2021 Results
The information below is taken from the 2021 GP Patient Survey. People registered at general practices across England were asked how easy or difficult it is for patients to see or speak to a doctor at their practice. The results for this practice are depicted below.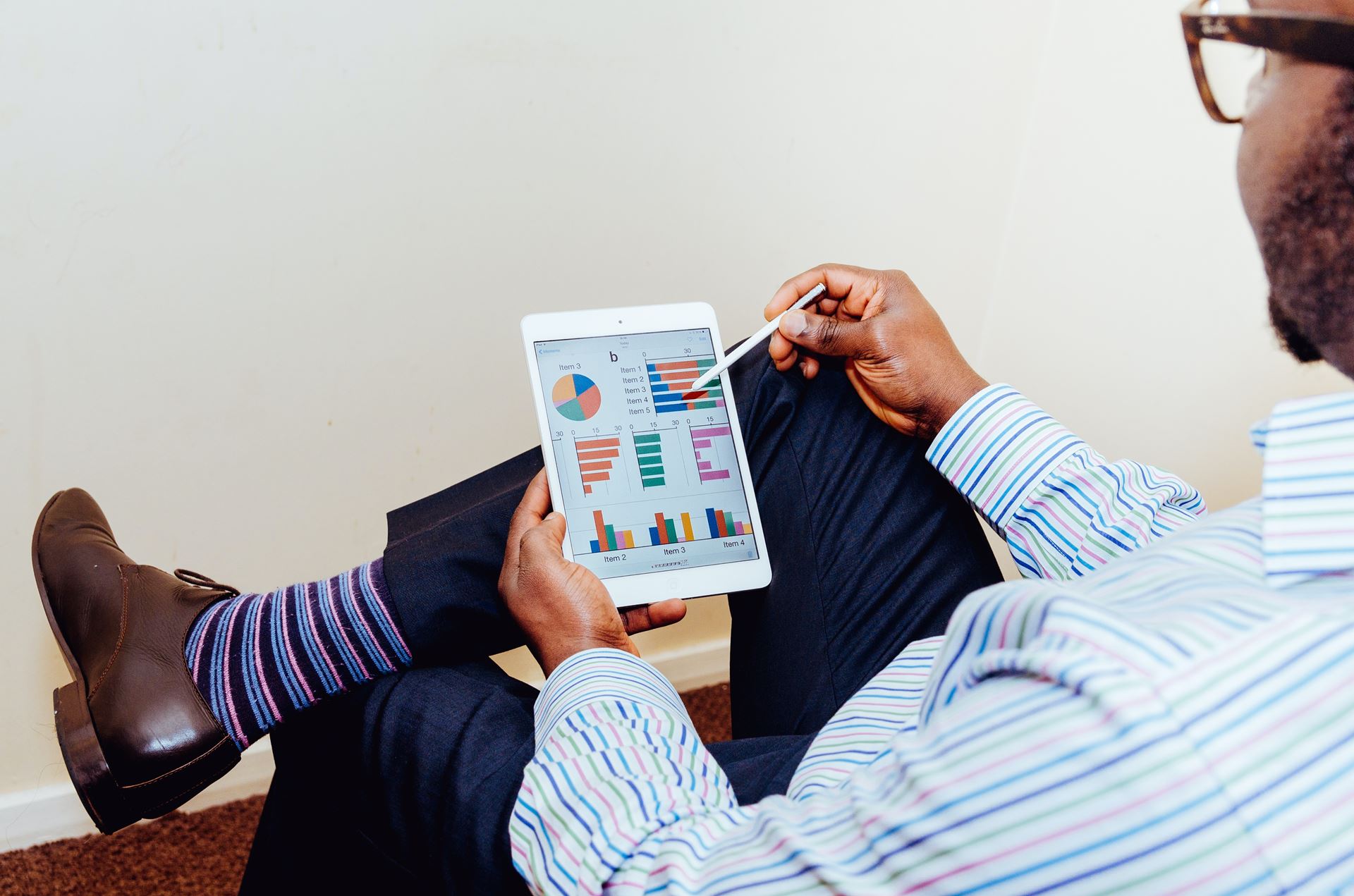 The Lodge Surgery Health Route
We are delighted to share details of a project that Dr Heath has been working on in conjunction with NHS Forest. The project aims to improve the health and wellbeing of patients, staff and communities by increasing access to green space on or near NHS land.
Spending time in nature can reduce anxiety and improve your mood and physical activity is known to reduce your risk of diabetes, depression, dementia and cardiovascular diseases. It is free and fun!
Dr Heath received grants from Tesco Bags of Help scheme and Chippenham Town Council to fund the project.
You may have already spotted the signs on lamp posts marking the walk but you can download a route map here or ask Reception for a copy if you are unable to print it. And let us know if you do the walk!
For more information about the project visit www.nhsforest.org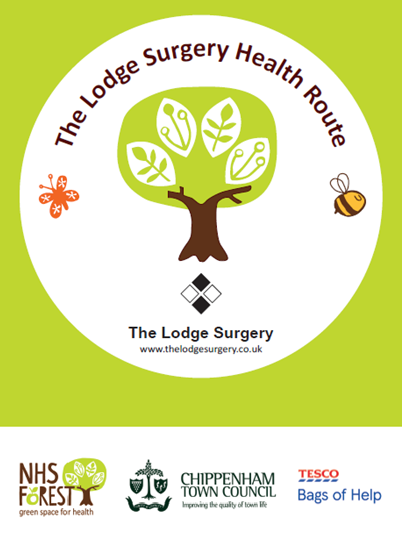 Domestic Abuse Helpline
People wanting to report domestic abuse will now be able to access a new out of hours number.
Wiltshire Council will be operating a dedicated line from 5pm weekdays and at weekends for people who want to report concerns or seek help. The new dedicated out of hours line is 01225 712880.
During the week Splitz provides a support service on behalf of Wiltshire Council. The charity supports victims of domestic abuse and sexual violence as well as children and young people impacted by domestic abuse. It carries out interventions to support perpetrators and provide safe accommodation for victims and their children.
For help Monday to Friday between 9am and 5pm please call 01225 775276.
In an emergency call 999.
Support for New Carers
Carers Support Wiltshire have a new webpage designed specifically for new carers that can be accessed using the link below.
This also contains a new Carers Guide which covers a broad range of subjects including getting help and support, money matters, work and education, managing someone's affairs and planning for the future and a directory of useful contacts.
National Data and Opting Out
National Data and Opting Out
NHS Digital is changing how they collect patient data
The data held in the GP medical records of patients is used every day to support health and care planning and research in England, helping to find better treatments and improve patient outcomes for everyone.
Patient data collected from general practice is needed to support a wide variety of research and analysis to help run and improve health and care services. Whilst the data collected in other care settings such as hospitals is valuable in understanding and improving specific services, it is the patient data in general practice that helps us to understand whether the health and care system as a whole is working for patients.
This data will be shared from 31 March 2022.
Data may be shared from the GP medical records about:
any living patient registered at a GP practice in England when the collection started - this includes children and adults
any patient who died after 31st March, and was previously registered at a GP practice in England when the data collection started
NHS Digital will not collect patients' names or addresses. Any other data that could directly identify patients (such as NHS Number, date of birth, full postcode) is replaced with unique codes which are produced by de-identification software before the data is shared with NHS Digital.
More information is available on the NHS Digital Website: General Practice Data for Planning and Research (GPDPR) - NHS Digital
Opting out
If you don't want your identifiable patient data to be shared for purposes except for your own care, you can opt-out by registering a Type 1 Opt-out or a National Data Opt-out, or both. These opt-outs are different and they are explained in more detail via the links. Your individual care will not be affected if you opt-out using either option. You can also send an email into enquiries.lodgesurgery@nhs.net with details of name, nhs number, address and context. A separate Opt-out must be completed per patient.
This collection will start on 31 March 2022 .
Covid-19 Vaccination Proof
The NHS app has been improved to allow patients to use it as proof of their Covid-19 vaccination status if required. Vaccination status is now available to view in the app. NHS England recommend downloading the free app and registering before booking international travel.
For patients who do not use a smartphone or tablet please call the NHS Helpline on 119 and request a paper vaccination statement (at least 5 days after receiving the second dose). Letters should be received within 5 working days.
Please do not request a paper statement from the surgery as we are unable to provide them.
For technical support with the NHS app please visit: Technical issues with the NHS App - NHS App help and support - NHS (www.nhs.uk)
Organ Donor Register Changes
Organ donation law in England has changed. For information, facts about common misconceptions around organ donation and funeral arrangements, faith and beliefs, visit Home - NHS Organ Donation.
You can also learn more about the different types of donation, find information and support to help you decide whether you wish to donate and register your decision.
One You
From whipping up tasty meals to finding easy ways to exercise and quit smoking, the NHS has apps and tools to help you take control of your health. Plus, find the free apps recommended to help you stress less, handle anxiety and lift your mood.
Visit Apps | One You (www.nhs.uk) for information about the apps and for online quizzes, tests and tools.